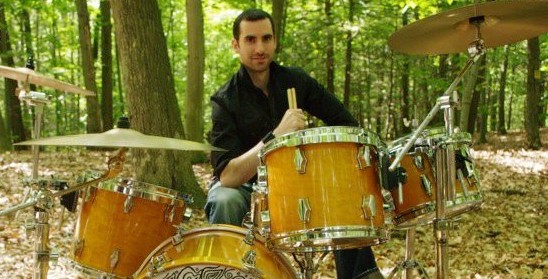 Known for his versatility, vibrant live energy, and musical malleability, David Oromaner has entered the realm of Southern California's in-demand drummers. His diverse background as a musician ranges from national tours and recording sessions, to neighborhood clinics, jazz clubs and finally to teaching his craft.
Growing up in the suburbs of NYC, David was constantly surrounded by music. "My earliest musical memories are of my older cousin playing drums in his basement for hours. There was just something about being surrounded by sound—a raw, primal energy that instantly got me hooked." Adding to the fire was David's musically obsessed older brother, who would blast Led Zeppelin, The Beatles, and Pink Floyd from his boom box. In addition to these rock influences, David was also discovering jazz. The objects of his admiration included Count Basie, Max Roach, Buddy Rich, John Bonham, and Neil Peart. The combination of these influences helped shape David as a drummer, which he became at an early age, when he inherited his cousin's drums.
David was fortunate to start his formal drum training at the Long Island Drum Center with ddrum and Zildjian clinician Dave Stark. Continuing the journey, David pursued both music and business at University at Albany, where he studied with percussionist Richard Albagli and drummer Dave Calarco.
After college, David relocated to Atlanta, Georgia. One of the first musicians he met was Dan Marshall, who had recently opened the doors to his studio in Little Five Points. David began laying down drum tracks at the studio and eventually garnered the attention of various Atlanta-based artists such as Brandhi Irvon, Everyday People, and Nakayo Dupree (Speech). In addition to touring, David taught privately and continued his own private studies with Georgia State Jazz Professor Woody Williams and master drummer Jeff Sipe.
In 2001, David moved to New York City to study at The Collective School of Music. At The Collective, David studied with Kim Plainfield, Jim Chapin, Matt Walker, Vince Cherico, Michael Lauren, and Robbie Ameen.
Some of the diverse artists David has performed with include Outside Pedestrian, PJ Loughran, Ron Kobayashi, Max Bennett, Mambo NYC, Llew Matthews (Nancy Wilson), Karel Ruzicka Jr., Jason Weber, and Changing Modes. David's recording credits as a drummer, arranger, and producer include nationally distributed records and soundtracks including releases by Capital and Universal Records. He has toured nationally and internationally including performances at the House of Blues (Las Vegas), Bonnaroo Music and Arts Festival (2014), Nokia Theater (NYC), Variety Playhouse (Atlanta), North by Northeast (Toronto), and the Orpheum Theater (Boston).
Discography


Outside Pedestrian Reclaimed
(Eclectichord Records)
Produced by Outside Pedestrian
Drums, Percussion, Production


Changing Modes In Flight
(Plague of Twins)
Produced by Changing Modes
Drums, Percussion, Trumpet, Arrangements, Co-Producer


Changing Modes The Paradox of Traveling Light
(Plague of Twins)
Produced by Changing Modes
Composer


Changing Modes Here
(Plague of Twins)
Produced by Changing Modes
Drums, Percussion, Trumpet, Arrangements, Co-Producer

Changing Modes Down and Out in Shangri-la
(Plague of Twins)
Produced by Changing Modes
Drums, Trumpet, Arrangements, Co-Producer


PJ Loughran Spinning On
(Independent)
Produced by PJ Loughran and Stephen Shirk
Drums


PJ Loughran Sunrise Run
(Independent)
Produced by PJ Loughran
Drums, Percussion


Changing Modes Aeroplane
(Plague of Twins)
Produced by Yuzuru Sadashige and Wendy Griffiths
Drums, Percussion


Martin Dory Vanishing Act
(Insulate Industries)
Produced by Benjamin Smith
Drums, Percussion


Nevaris Nevaris
(Uncommun records)
Produced by Nevaris
Drums


PJ Loughran Grenadine
(Independent)
Produced by PJ Loughran and Stephen Shirk
Drums, Percussion


PJ Loughran Selections from the Shoebox
(Independent)
Produced by PJ Loughran
Drums, Djembe


Ben Dunlap Take My Chances
(CBK Entertainment)
Produced by Ben Dunlap and JL Floyd
Drums


Little Embers Divided
(Independent)
Produced by Little Embers
Drums, Percussion


Dave Edwards Now What?
(Independent)
Produced by Dave Edwards
Drums


Bangalore Torpedoes Clear the Floor
(Rarotonga Records)
Produced by John Goese
Drums